october 2003
'Elliott's family has established a trust and any monetary donations should be sent to the 'Elliott Smith Memorial Fund.' If you would like to make a donation via paypal, please send it to esmfund@yahoo.com. This email address is set up exclusively for the paypal account so any emails sent to it will probably go unanswered. Thank you.
Elliott Smith Memorial Fund
2658 Griffith Park Blvd. #138
Los Angeles, CA 90039
The Elliott Smith Memorial Fund is a not-for-profit organization being established by Elliott's family for the sole purpose of providing financial support for children who are victims of abuse. Although it is still in the process of being organized, the Elliott Smith Memorial Fund will be registered as a not-for-profit entity pursuant to Section 501(c)(3) of the Internal Revenue Code. The Elliott Smith Memorial Fund is the only organization authorized by Elliott's family to carry out his charitable wishes, and his family is not at this time associated with any other fund or foundation.
you can also send any letters or anything to the family to the address above as well.
hi everyone. im slowly posting stuff on the site like tribute shows and memorial updates. im also going to post links to written memorials and thoughts about elliott from fans via their websites. so we will have specific pages for info so stuff doesnt get buried. this will be a very long process for me so please be patient with me. please note that at this time its been really hard to email people back or email at all. i'm really sorry if i don't email you back. please know we appreciate it so much that you are even willing to take time to send best wishes, love, links and thanks. thank you for being there for all of us at this time. we hope you are doing ok too. thank you. xo charlie
tribute shows and memorial links and information page (11.12.03)
written memorials and thoughts link page (10.30.03)
---
ARTISTS PAY TRIBUTE TO ELLIOTT SMITH (more info about donations and other tributes below)
the show is officially sold out :(
statement from spaceland: want everybody to know we never imagined the response would be so amazing, and we could not secure a larger venue in the time we had. This was originally going to be a private event at either Spaceland or Echo (300 capacity), but the decision was made to make it open to the public and the Fonda was the easiest to secure. The response was overwhelming, and because of time we were not able to move the show. Everybody involved in this is doing it for Elliott, I hope everybody realizes that and knows that attending is not the only way they can show their love/support/sadness/anger/happiness/gratitude etc for this person we all above all respected.
Memorial Benefit Set for Monday, November 3, at the Henry Fonda Theatre
Beck / Beth Orton / Rilo Kiley / Future Pigeon / Alaska / Lou Barlow / & SPECIAL GUESTS, will be joining together to pay tribute to the late singer/songwriter Elliott Smith on Monday, November 3 at the Henry Fonda Theatre. The performances will be preceded by a screening of Steve Hanft's experimental documentary "Strange Parallel" featuring Smith. Tickets are $20 and available only at www.ticketweb.com. Proceeds go to benefit the
Elliott Smith Foundation for Abused Children. Doors are at 6pm and all ages are welcome. The Henry Fonda Theatre is located at 6126 Hollywood Blvd. in Hollywood, CA (323) 464-0808.
'Elliott's family has established a trust and any monetary donations should be sent to the 'Elliott Smith Memorial Fund.' If you would like to make a donation via paypal, please send it to esmfund@yahoo.com. This email address is set up exclusively for the paypal account so any emails sent to it will probably go unanswered. Thank you.
Elliott Smith Memorial Fund
2658 Griffith Park Blvd. #195
Los Angeles, CA 90039
Elliott Smith Toronto Memorial
Elliott Smith Toronto Memorial
Saturday, November 1, 2003
Trinity-Bellwoods Park @ Queen/Strachan-Trinity.
At the marble gates (the Strachan gates on Queen St)
5:00 PM
DIRECTIONS:
From the subway, obtain a transfer and exit the University Line at
Osgoode. Catch the 501 Queen
Street streetcar heading westbound. Get off at Strachan, at the gates
to Trinity-Bellwoods Park.

Dear everyone,
The Elliott Smith memorial service in Toronto will take place on Saturday, November 1, 2003 at 5:00 PM at the gates of the Trinity-Bellwoods Park (located at
Queen/Strachan-Trinity). Joel has supplied a map and directions (above) to help you arrive. As at the NYC memorial, you are welcome to arrive at any time; earlier or later, to stay for a while or to simply drop by and leave pictures, letters, candles, thoughts and any other fond farewells. Binging a guitar would be lovely. I hope to see you there. Take care and dress warmly, it's getting cooler these days.
thanks to tina
kcrw tribute show on new ground. click here to check it out. its wonderful!
thanks to everyone who sent that in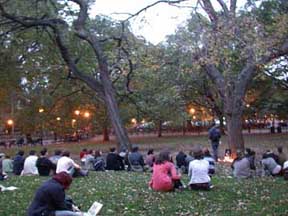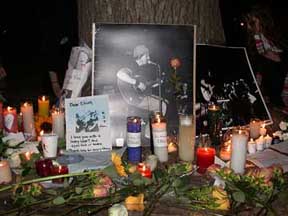 im sorry i delete the email for who sent these pics and i forgot the name. sigh :( they are from the nyc vigil. thank you.
-------
i pray its ok to bring the site back but again i thought it would help. oh course a lot things haven't been updated so please bear with me and i still won't be able to write emails or read emails as quick as i would like. thanks to casey (thanks and love to all he is doing at elliottsmith.com too) for sending this info about a memorial in new york:
NYC VIGIL & MEMORIAL FOR ELLIOTT
THIS SUNDAY (10/26)
5:00 PM
TOMPKINS SQUARE PARK
EAST VILLAGE / AVE A AND 7TH STREET
from kristen :
Hi, all. The Elliott Smith memorial service will be taking place this Sunday (10/26) at 5 o'clock, but after careful consideration, the location has been moved to Tompkins Square Park. Many people expressed a desire to see this vigil or another one conducted near the area Elliott lived while he was here, so the Square seemed a more fitting choice. Specifically it will be held on the Central Lawn, which is a short straight walk from the Avenue A and 7th entrance - if you need further assistance beyond that, let me know. Again, 5 o'clock is the general meeting time, but people are welcome to begin arriving at any time - or simply to drop by and leave their pictures, letters, candles, and any other tokens of farewell. And, yes, bringing a guitar is fine. Hope to see you there. Dress warm. Love, Kristen
-------
"Elliott was a beautiful, gentle soul, generous beyond words and loved so much by all of us," read a statement from his family. "We wish to extend our gratitude to the many people who supported him and have been touched by his music. While Elliott will be deeply missed, his spirit will always be with us." - from mtv.com
-------
hi everyone. i just wanted to thank everyone for all the love and support you have given to elliott, elliott's loved ones, family, friends, each other and me. its been overwhelming how much love is out there all around. its an amazing thing. thank you to everyone who has posted something on websites too. i just wanted to thank also solutions on sunset blvd. for letting fans go by and pay their respects. seeing the pictures, we appreciate it so much. i'm sorry i havent been able to even respond or even read all the emails that have been sent. i did/doing my best and i hope to email each and everyone of you at some point just to thank you. no word about sending flowers or anything in behalf of elliott. if anything comes up, i'll for sure post it. i just wanted to let you know that sweet adeline will be back on friday or saturday. hopefully it will help all of us to play some tabs or look around. also the site will be around for a very long time in memory of elliott. i wish i could organize everything to post meet ups and memorials. please check sweetaddy.com. sorry i cant with my email system. i pray you are all ok at this time.
love charlie
the memorial in l.a. is at: Solutions 4334 W. Sunset Blvd, Los Angeles, CA (in Silver Lake)
sorry to all the media requests too.
-----------
goodbye elliott
as you probably realize im pretty devastated about having to say goodbye to elliott. i've been so lucky enough to experience my own love and other's love of elliott and what his music has brought to us. its never easy to put into words what someone means to you. simply elliott was such a lovely man. i'll miss him so much. he was so kind and generous. he really made me feel so good whether being in his presence or watching him play a song or just driving in my car singing along. when i first meet elliott in 1998 after a show i was really worried to bug him for an autograph. it seemed like every article i read, elliott got into a fight somehow, so my perception was that you don't want to get him mad because you might get socked. well i was willing to take a chance that night and god i'm so glad i did. it was brief but it meant the world. with elliott holding a beer, i ran up to him asking for an autograph. with a soft spoken yes and a smile, he was willing to take time for me to sign my record. the fact he was willing to take time to do that for me meant the world. not only didn't i get socked but elliott put 'to charlie <3 elliott' of course that just made me love him more :) as time went on, i got to meet elliott more and more and spend a little time with him backstage. as always he was sweet to me before even knowing who i was. but finally i told him. i was nervous but he was so comforting. he even gave me a pat on the back. some of the things he told me were cool, interesting, honest and funny. the best moment to me was when he told me how much he loved the site. the thing is that it reflects on everyone who contributed to the site and visited the site. elliott told me he thought the site was really nice and that he would come and visit it especially to check out the set lists to see what he played before so he could play a new set. he thanked me for it but really he was thanking everyone because he appreciated how much everyone cared about what he was doing. he also thanked us multiple times! so many times people close to elliott thanked us for doing this for elliott too because they knew how much it meant to him. you guys really did make him happy and brought a lot of good to his life. as fans gave to him, he was willing to give too. all the stories i read and heard from fans were never negative. everyone's experience with elliott was always positive. from elliott putting fans who didn't get tickets for the show on his guest list to giving money to the homeless to simply hanging out with fans and going out for a beer. i wish i could put so much more because that just doesn't add to all the kind things he was willing to do for anyone. i wish i could remember everyone's stories and list them all for you. i wish i knew every word he said to me word for word to share with you. im sorry i wish i could say more. im sad. so how can you say goodbye to someone who was and is so wonderful? you don't because elliott will be forever in my heart and hopefully yours. i will always have his love, kindness, intelligence, humbleness, creativeness, greatness and so much more in me forever because that's what he was and i'll always love him for being who he was. i love you so much elliott. thank you so much from the bottom of my heart and soul for making me happy when i need it or i just wanted to rock out. thank you for bringing such much joy to your love ones, family, your friends and all of us. i really pray you heard all the great things you gave us. love and friends. i'll miss you so much. we will all miss you. see you in heaven elliott.
<3 charlie
Steven Paul (Elliott) Smith. August 6, 1969 – October 21, 2003. Elliott Smith was born on August 6, 1969 in Omaha, Nebraska. Elliott spent his childhood near Dallas, Texas where he began his musical training at the age of nine, winning a local award for original composition at the age of ten.
Elliott relocated to Portland, Oregon as a Sophomore at Lincoln High School where he achieved the rank of National Merit Scholar. During his time at Lincoln High School, Elliott joined the band "Stranger Than Fiction" in which he composed music and performed until his graduation in 1987.
Elliott later attended Hampshire College in Amherst, Massachusetts, where he majored in Philosophy and Political Science. During his time at Hampshire, Elliott, known then as Elliott Stillwater-Rotter, co-founded the band "A Murder of Crows". He later became a member of well known band "Heatmiser". It was during this time that Elliott began to release music as a solo artist.
During his lifetime, Elliott released five full-length albums as a solo artist as well as a number of singles. Elliott was nominated for an Academy Award for "Miss Misery", his musical contribution to the Academy Award winning movie, "Good Will Hunting".
At the time of his death, Elliott was recording his sixth album, "From A Basement On The Hill".
Elliott is survived by a host of family, friends and fans.
thanks to daphne for composing an obituary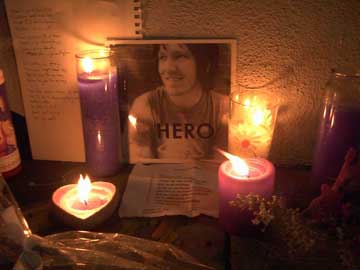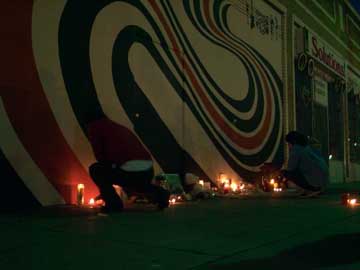 ---
southlander dvd includes splitsville and snowbunny's serenade
thanks to odie for posting that they got the new dvd of steve hanft's film, southlander which includes a cameo by elliott. odie mentioned that it also includes a couple of unreleased/full length elliott smith recordings. the first one is splitsville which you can hear a small clip of on the southlander official site under the soundtrack link. the dvd includes the whole song when the credits role. the other song is an instrumental called snowbunny's serenade and is described by biaatch in the 'ask charlie a question' section as a slow version of bye from figure 8. the dvd is now available and if you want to get it for a reasonable price, check here.
also thanks to melinda for sending me info that tinymixtapes.com recently posted a small article about southlander and elliott's role in it. go here to check it out and scroll down a little to the october 7th posting. (10.11.03)